BYOD Risks and Rewards — White Paper Offer
November 12, 2012
---
Category: Business Line, Events, IT, logistics | RSS 2.0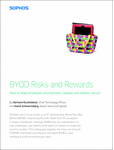 Although BYOD may be a convenience to your employees, you need to think about its impact on corporate security models. This white paper explains the risks and rewards of BYOD, and shows you how you can adopt BYOD in your workplace while protecting your data.
Read this white paper to find out:
What BYOD means for business
What BYOD means for security
What is BYOS: Bring Your Own Software
How to set policy and compliance standards
7 steps to a BYOD security plan
Publisher: Sophos
The offer may be found at this site.