ORLANDO, Fla., MUNICH, and ROME, Nov. 29, 2012 /PRNewswire/ — The Medium Extended Air Defense System (MEADS) detected, tracked, intercepted and destroyed an air-breathing target in its first-ever intercept flight test today at White Sands Missile Range, N.M. The test achieved all criteria for success.
MEADS is a next-generation, ground-mobile air and missile defense system that incorporates 360-degree radars, netted and distributed battle management, easily transportable launchers and the hit-to-kill PAC-3 Missile Segment Enhancement (MSE) Missile. The system combines superior battlefield protection with new flexibility to protect forces and critical assets against tactical ballistic missiles, cruise missiles, unmanned aerial vehicles and aircraft.
The MEADS test configuration included a networked MEADS battle manager, lightweight launcher firing a PAC-3 MSE Certified Missile Round and a 360-degree MEADS Multifunction Fire Control Radar (MFCR), which tracked the MQM-107 target and guided the missile to a successful intercept.
"Today's successful flight test further demonstrates MEADS' ability to identify, track, engage and defeat targets attacking from any direction using a single mobile launcher," said NATO MEADS Management Agency General Manager Gregory Kee. "MEADS is proving its capability to defend our warfighters and key assets against a growing 21st century threat."
The test exploited the MEADS capability for full-perimeter, 360-degree defense with the PAC-3 MSE Missile performing a unique over-the-shoulder maneuver to defeat the target attacking from behind the MEADS emplacement.
"MEADS provides advanced capabilities that detect, track and intercept evolving threats from farther away and without blind spots," said MEADS International President Dave Berganini. "Today's successful intercept proves MEADS' advertised capabilities are real. Its digital designs and modern hardware and software ensure high reliability rates and dramatically reduced operational and support costs."
The MFCR is an X-band, solid-state, active electronically scanned array radar which provides precision tracking and wideband discrimination and classification capabilities. For extremely rapid deployments, the MEADS MFCR can provide both surveillance and fire control capabilities until a surveillance radar joins the network. An advanced identify friend-or-foe subsystem supports improved passive threat identification and typing.
Using its 360-degree defensive capability, the advanced MEADS radars and PAC-3 MSE Missile, MEADS defends up to eight times the coverage area with far fewer system assets and significantly reduces demand for deployed personnel and equipment, which reduces demand for airlift.
MEADS successfully completed its first flight test on November 17, 2011, against a simulated target attacking from behind. A PAC-3 MSE Certified Missile Round was employed during the test along with the MEADS lightweight launcher and battle manager.
MEADS International, a multinational joint venture headquartered in Orlando, Fla., is the prime contractor for the MEADS system. Major subcontractors and joint venture partners are MBDA in Italy and Germany, and Lockheed Martin in the United States.
The MEADS program management agency NAMEADSMA is located in Huntsville, Ala.
Earlier this century the Pentagon started a program managed by the Navy and Marine Corps to replace the existing helicopters used to transport the President. Currently a mix of Sikorsky, part of United Technologies (UTX), made VH-3 and VH-60 aircraft are used. Some of them are now over 40 years old. It was felt that a new system was needed that was more efficient, capable and equipped with modern communication equipment. This was the VH-71 program.
The VH-71 planned to use an aircraft from Augusta Westland modified by prime contractor Lockheed Martin (LMT). The program was to proceed in two stages with a few aircraft bought early to test and integrate modifications. This proceeded with several aircraft purchased and modified. The problems arose as the requirements for the second effort changed considerably over time leading to schedule and cost growth. By 2009 the program was several billion dollars over budget and was cancelled by the Obama Administration as part of their defense reforms.
A draft RFP was released this week for the new program. It plans to save money and manage schedule by requiring the use of an existing, in production aircraft which will be modified. It is requesting that the bidders plan to minimize changes to expensive parts of the aircraft such as the power train, transmission, structure and rotor system. A communication system is being developed separately that will be integrated onto the new aircraft.
The VH-71 suffered as the requirements meant new major systems had to be developed and integrated to meet power, range and hovering capability requirements. The RFP is for 23 aircraft at a cost of just under $1 billion with the first ones entering service in 2020.
Currently teams made up of Sikorsky and Lockheed and Augusta Westland and Northrop Grumman (NOC) are interested. Boeing (BA) may propose after doing analysis as to whether their large CH-47 or V-22 tilt rotor aircraft may meet the requirements.
The VXX program is aggressive in that it hopes to contain cost, schedule and technical creep. As the VH-71 program indicated it may be hard to do this. With the expected defense cuts coming up the contract is very attractive not only due to its size but also the prestige. As with other large aviation programs the winner may also expect several decades worth of support contracts which could be worth billions.
Photo from dailymatador's flickr photostream.
LONDON, November 28, 2012 /PRNewswire/ —
Programme leaders from the US Navy and Northrop Grumman Corporation have detailed the progress on the E-2D Hawkeye in an exclusive interview ahead of the company's involvement in Defence IQ's 12th Annual Airborne Early Warning event taking place in Paris from January 22 – 24. Listen to the full interview at http://www.airborneearlywarning.com.
Bart LaGrone, Northrop Grumman Aerospace Systems vice president for the Airborne Early Warning and Battle Management Command and Control (AEW/BMC2) programmes, and the new USN programme manager for the E-2D, Captain John "Chet" Lemmon, confirmed that initial test and evaluation of the aircraft had been completed and that the current contract is for provision of 20 E-2Ds to the Navy, with other foreign sales under consideration.
"Northrop Grumman has been the lead sponsor for this AEW conference since its inception more than a decade ago," said Lagrone.
"As the global leader in Airborne Early Warning and Battle Management Command and Control Systems, we at Northrop Grumman feel this forum facilitates a free exchange and advancement of ideas by bringing together subject matter experts representing numerous communities from various countries; the attendees can be guaranteed an intense two day experience.
"I believe the E-2D Advanced Hawkeye is built on an incredible legacy and I believe Defence IQ and their hosting of the AEW conference is a great way to kick off another milestone in Airborne Early Warning."
The conference website also hosts a range of new resources for those interested in the subject, as well as the latest agenda featuring senior commanders from the Royal Navy French Navy, Brazilian Air Force, and Swedish Air Force, among others. For more information on the Airborne Early Warning agenda, you can download the full programme here.
Bookings for Airborne Early Warning can be made by visiting the site, by e-mailing [email protected], or by calling +44(0)20-7368-9300.
In another demonstration about how the world of nuclear weapons and classification of information has changed it was announced that Boeing (BA) has received a contract from the U.S. Air Force to design a new tail kit for the standard B61 aerial nuclear weapon.
The contract is worth a little over $175 million and is part of a program to improve the weapon's reliability and upgrade the design.
The B61 has been in existence for almost fifty years in various versions. Boeing will work with the Mod 12 of the bomb. The B61 is a key component of the current U.S. stockpile of weapons.
In the past even confirmation of the existence of this weapon would have been impossible and now contract awards are treated routinely.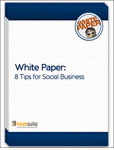 The 8 Tips for Social Business includes the following best practices that will positively impact all teams:
Evaluate: Integrate social into existing organizational and departmental goals
Engage to Build Community: Empower your Social Team to contribute to the conversation
Collaborate: Encourage your Social Teams to distribute new learning both within the Team and your organization as a whole
Measure your Social ROI: Build the capacity for measurement into every social action
Download your copy today. Explore these 8 tips and find out how the future of your business is social.
EAST HARTFORD, Conn., Nov. 27, 2012 /PRNewswire/ — Pratt & Whitney, a unit of United Technologies Corp. (NYSE: UTX), has been awarded a contract by the U.S. Army to research and develop an Advanced Variable-Speed Power Turbine (AVSPOT) to meet the range and lift requirements for current and future force rotorcraft. The AVSPOT program is an initiative by the U.S. Army's Aviation Applied Technology Directorate, in collaboration with NASA, to develop turbine technology that improves performance, efficiency, and affordability of rotorcraft engines, and to validate that technology in a laboratory environment by 2016.
Although future mission requirements are still being considered, the program aims to develop a power turbine that would allow future medium as well as large rotorcraft to hover at up to 10,000 ft and cruise at up to 25,000 ft altitude while maintaining high operating efficiency. Whereas current state of the art power turbines operate in the 95-105 percent speed range, AVSPOT is intended to allow rotorcraft to optimize power turbine speed in the range of 55-105 percent while optimizing fuel consumption, cost, weight and durability.
There are significant challenges to enabling the higher power and rotor speed needed for takeoff and climb, as well as slower optimized rotor speed at cruise.  To address these challenges, Pratt & Whitney is pursuing a technological approach that reduces the speed of the power turbine while optimizing its efficiency.
"Pratt & Whitney looks forward to participating in the AVSPOT program, and we're confident we will be able to meet the mission profile requirements needed for future rotorcraft engines," said Annette Jussaume, general manager, Small Military Engines. "We have the technology know-how that will allow us to develop an efficient high-power turbine that can operate over a wide range of engine speeds."
Pratt & Whitney is a world leader in the design, manufacture and service of aircraft engines, space propulsion systems and industrial gas turbines. United Technologies, based in Hartford, Conn., is a diversified company providing high technology products and services to the global aerospace and building industries.
BLUE BELL, Pa., Nov. 26, 2012 /PRNewswire/ — More than a year after Unisys (NYSE: UIS) transitioned the U.S. General Services Administration (GSA) to cloud-based Google Apps for Government, agency officials say the new tools have transformed the way they conduct their business and led to increased collaboration and reduced costs.
The GSA awarded a contract to Unisys in late 2010 to install Google Apps for Government, which includes email and collaboration tools. About 17,500 GSA employees began using these tools in June 2011. Since then, GSA estimates it has saved about $2 million and expects another $15 million reduction in IT costs over the next five years.
GSA employees have created and shared more than 274,000 documents in Google Docs, and created more than 500 internal web sites using Google Sites.
GSA also cites a nearly 90 percent reduction in server energy consumption and 85 percent reduction in related carbon emissions. According to estimates by Google, the cost savings from this reduction in energy use will be $285,000 annually.
Examples of how Google Apps has transformed the agency were illustrated by the experiences of two GSA organizations: the Federal Systems Integration and Management Center (FEDSIM) and the Public Building Service (PBS).
FEDSIM
FEDSIM, the GSA organization that provides acquisition services to enable large-scale technology projects for other federal agencies, has used Google Apps to promote the mobility of its workforce. Many FEDSIM employees must work remotely at client sites, and Google Apps allows them to use their smartphones and tablets to stay in touch with their managers, edit documents and to view their colleagues' calendars.
The video chat functionality in Google Apps helps employees reduce travel expenses while still allowing them to collaborate "face-to-face."
In addition, FEDSIM used Google Sites to set up an internal portal within three days, at no additional cost – a process that previously could have required months when the work had been done through a contractor.
The infrastructure is now entirely under FEDSIM control. Employees use it as a repository for forms and policy documents; to reserve conference rooms and government-owned cars; to create and share award nominations, marketing slides, training materials and other documents. They are continually adding new features.
Public Building Service
The managers of PBS quickly recognized the potential of Google Apps as a knowledge management tool for organizing information and making it accessible to the workforce using a variety of devices, including smartphones and tablets. The organization has rolled out a project this year to use the tools to create a knowledge hub that serves as a focal point for sharing best practices, policies and standards for property management.
PBS used Google Sites to set up "communities" built around various mission areas such as facilities management, leasing and customers – allowing managers in different regions to share information on their activities. For example, PBS manages multiple facilities for the FBI across the country, and PBS managers who work with the FBI were able to use Google Apps to discuss common challenges and best practices.
Consequently, PBS is now better positioned to address GSA's overall goal of driving consistency and standardization across the organization. As one PBS regional official stated, "The main benefit for me is knowing that there is a team of individuals working to reduce redundancy in effort."
More importantly, Google Apps provides standardization and consistency, and that makes PBS more efficient and leads to better customer service.
"GSA has proven that innovative cloud-based solutions can help the government improve operations while cutting costs," said Venkatapathi "PV" Puvvada, group vice president for civilian agencies at Unisys Federal Systems. "We are thrilled to be GSA's industry partner in this project and look forward to helping them continue to maximize the benefits of these tools as well as helping other agencies to follow GSA's lead."
About Unisys
Unisys is a worldwide information technology company. We provide a portfolio of IT services, software and technology that solves critical problems for clients. We specialize in helping clients secure their operations, increase the efficiency and utilization of their data centers, enhance support to their end users and constituents and modernize their enterprise applications. To provide these services and solutions, we bring together offerings and capabilities in outsourcing services, systems integration and consulting services, infrastructure services, maintenance services and high-end server technology. With more than 22,500 employees, Unisys serves commercial organizations and government agencies throughout the world. For more information, visit www . unisys . com.
Force Protection was one of the first and largest manufacturers of Mine Resistant Ambush Protected (MRAP) vehicles used by the U.S. and its Allies in Afghanistan and Iraq. For a time during the first decade of this century the company won a large number of contracts to build, service and maintain these vehicles as the U.S. quickly ramped up its inventory.
Over the last few years though it was a different story as the company faced struggles due to declining demand and the fact that the new MRAP for Afghanistan, the MRAP-AT, contract was won by Oshkosh (OSK). Eventually the company and its assets were acquired by General Dynamics (GD) who also has made MRAP and armor for these vehicles.
That does not mean that different military forces are not investing in MRAP just that the market has shrunk significantly. The U.K. just awarded GD a contract for 51 more Force Protection Foxhound vehicles for use in Afghanistan. The value is just over $73 million.
The U.K. already operates Foxhounds and in 2010 ordered 376 of them. They are made in the U.K. by the former Force Protection.
The military vehicle market still remains strong as the U.S. needs to replace and upgrade large amounts of vehicles from the 1980's that have seen heavy use since 2001. They also need to fit the stocks of MRAP's into their tactical formations and doctrine.
Photo from Think Defence flickr photostream.
In the past India had tended to buy weapons either from the Soviet Union, Great Britain or domestic sources. There laws on offsets and working with Indian companies limited opportunities for U.S. defense contractors to bid or win work.
In the last several years this has changed as India has turned to Western suppliers. They loosened the laws on offsets and expanded the number of corporations that could team with outside entities to make it possible for a more diverse group of contractors to bid. This led to Boeing (BA) winning contracts for transports as well as maritime patrol aircraft. France's Dassault Rafael was selected for the new fighter program as well.
India continues to have a whole host of different requirements to modernize its military including one for advanced, programmable radios. One U.S. company that is interested in this contract is Rockwell Collins (ROC). Rockwell is a U.S. manufacturer of aircraft avionics, components and also provides software and other services to the U.S. military and commercial market. They have had a facility in India since 2008. The current focus of there efforts there is utilizing local engineering capability to aid in software development.
They exhibited 2 different solutions at a recent DEFCOM India 2012 show.
Rockwell also just announced that they will team with India conglomerate Tata to bid on this contract. Using an Indian partner will aid in having their bid accepted.
With the expected decline in the U.S. and European defense markets with the budgetary problems needing to be solved overseas contracts will become more of a focus for all defense contractors no matter what the size. Asia is considered the primary market to make up some of the lost business. It will attract more companies like Rockwell in the future.
GROTON, Conn., Nov. 21, 2012 /PRNewswire/ — The U.S Navy has awarded General Dynamics Electric Boat a $61.7 million contract modification for the continued development of the Common Missile Compartment for the United Kingdom's Successor ballistic-missile submarine and the U.S. Ohio replacement submarine. Electric Boat is a wholly owned subsidiary of General Dynamics (NYSE: GD).
Under the modification, Electric Boat will procure, manufacture and test prototype material and equipment to be used in the production of the Common Missile Compartment.
The award modifies a contract announced in December 2008 for engineering, technical services, concept studies and design of a Common Missile Compartment for the next-generation ballistic missile submarines being developed for the Royal Navy and the U.S. Navy. If all options are exercised and funded, the overall contract would have a value of more than $776 million.
This work will engage Electric Boat's engineering and design organization, which comprises more than 4,000 employees. Possessing proven technical capabilities, these employees work on all facets of the submarine life cycle from concept formulation and design through construction, maintenance and modernization, and eventually to inactivation and disposal.
More information about General Dynamics is available at www.generaldynamics.com.
We hope everyone will have a safe and Happy Thanksgiving no matter if you are with family or not, no matter where you are.
Company to Provide Enterprise Information Technology Services in Support of the U.S. Central Command
MCLEAN, Va., Nov. 20, 2012 /PRNewswire/ — Science Applications International Corporation (SAIC) (NYSE: SAI) today announced it has been awarded a prime contract by the U.S. General Services Administration (GSA) to provide enterprise information technology (IT) support to the U.S. Central Command's (USCENTCOM) Directorate of Command, Control, Communications and Computers. The cost-plus award-fee (CPAF) task order has a one-year base period of performance, four one-year options, and a total contract value of $433 million, if all options are exercised. Work will be performed primarily in Tampa, Fla. The task order was awarded under the GSA Alliant Government-wide Acquisition Contract by the Federal Systems Integration and Management Center (FEDSIM).
USCENTCOM promotes cooperation among nations, responds to crises, deters or defeats state and non-state aggression, and supports development and reconstruction to establish the conditions for regional security, stability and prosperity. Under the task order, SAIC will provide IT services, including command, control, communications, and computer (C4) systems support, theater network operations, engineering, cybersecurity, programs and architectures, and resource management.
"We are pleased to have the opportunity to continue providing our quality services and expertise to USCENTCOM," said Dan Harris, SAIC senior vice president and business unit general manager. "We look forward to using our technical knowledge and unique communications and managerial capabilities to provide warfighters the C4 support they need to achieve mission success."
About SAIC
SAIC is a FORTUNE 500® scientific, engineering, and technology applications company that uses its deep domain knowledge to solve problems of vital importance to the nation and the world, in national security, energy and the environment, critical infrastructure, and health. The Company's approximately 40,000 employees serve customers in the U.S. Department of Defense, the intelligence community, the U.S. Department of Homeland Security, other U.S. Government civil agencies and selected commercial markets. Headquartered in McLean, Va., SAIC had annual revenues of approximately $10.6 billion for its fiscal year ended January 31, 2012. For more information, visit http://www.saic.com/. SAIC: From Science to Solutions®
Read more
The Iraqi government is in discussions with the U.S. about purchasing more weapons systems for its Army. The new talks reportedly focus around getting up to 30 Stryker vehicles optimized for nuclear, biological and chemical weapon detection. The Stryker is an 8 wheeled armored vehicle manufactured by General Dynamics (GD). While the base vehicle provides troop transport it is made with a variety of weapon systems and equipment attached.
The value of this contract is estimated at $25 million.
The Stryker is based on a vehicle originally designed for the Canadian military and many parts of the current version are made in that country.
Iraq has purchased quite a bit of U.S. equipment in the last few years. The largest contract has been for 18 F-16 fighters made by Lockheed Martin (LMT). Iraq has also looked to other suppliers including Russia for some of their new systems which makes sense due to their historical usage of that nation's hardware.
The Strykers are part of an overall $7 billion in new military equipment that supposedly will be sent to Congress for approval in the near term.
This is an article I wrote for Seeking Alpha discussing trends in CSC and CACI earnings and stock price.
The ability to locate and track underwater threats has been operationally validated during recent exercises.
OTTAWA, Ontario, Nov. 19, 2012 /PRNewswire/ — Advanced, high-performance airborne acoustic processing is now fully operational on Canada's CP-140 Aurora aircraft with the final delivery and operational validation of the Modular VME Acoustic Signal Processor (MVASP).
General Dynamics Canada, a premier provider of defence electronic systems and a leading systems integrator of complete command, control, communication, computing, intelligence, surveillance and reconnaissance (C4ISR) solutions, has delivered the MVASP as part of the Aurora Incremental Modernization Project (AIMP). The AIMP is the mid-life upgrade of the Aurora aircraft operated by the Canadian Department of National Defence for surface and undersea surveillance roles. The MVASP is the primary underwater detection system on the aircraft and is used to locate and track underwater threats. These capabilities were validated in several national and international exercises this year.
"As the primary sensor for underwater ISR on the Aurora, the MVASP leverages the latest innovations in parallel processing to provide enhanced detection and localization of underwater targets," said Peter Giles, product manager for underwater ISR at General Dynamics Canada. "Its advanced capabilities have been engineered to allow operators on fixed- and rotary-wing aircraft to find a target quickly and hold it for as long as necessary. This improves mission effectiveness by enabling more accurate underwater target analysis and identification."
In April, the MVASP system was employed on Aurora aircraft as part of Exercise Joint Warrior, a two-week exercise held twice each year by forces from the United Kingdom, the United States, Denmark, Norway, France, Germany, the Netherlands and Canada. The system's capabilities were again demonstrated in August when Aurora aircraft took part in Rim of the Pacific Exercise (RIMPAC) 2012, the world's largest international maritime warfare exercise held biennially by the United States with Australia, New Zealand, the United Kingdom, Canada and other Pacific Rim nations.
The MVASP provides concurrent acoustic processing for up to 32 sonobuoys. It can process information from any sonobuoy in fleet use today and is designed to support any mix of analog, digital, passive or active acoustic data. The MVASP features an intuitive operator interface and advanced tools that reduce operator workload while increasing situational awareness.
The intuitive energy map allows operators to quickly detect, localize and track the source of acoustic energy on a tactical display. Long detection ranges capable with the system enable operators to detect potential threats over greater distances. In addition, the embedded trainer makes it easier for operators to build their expertise with the system's features and functions and improve their skills when it is not being used for missions.
General Dynamics Canada is part of General Dynamics C4 Systems, a business unit of General Dynamics (NYSE: GD). For information about General Dynamics Canada please go to www.gdcanada.com.
One of the issues that Afghanistan has raised for the U.S. and its Coalition partners is the high cost of fuel and also the difficulties in transporting it. Due to the terrain and mine/IED threat much of the supplies and people needed are moved by air. This greatly increases the cost of a gallon of fuel at its final destination point. Demand for this commodity is not only driven by the need to power vehicles but also to generate the large amounts of electricity needed for modern combat systems.
To counter this the U.S. Department of Defense has been investing in different types of renewable energy to see if it may be used to supplement their standard diesel powered generators. This has included fuel cells, solar power and other ideas to reduce reliance on those units. Generators also provide large noise and heat signatures which could aid in enemy targeting of facilities and bases.
The Office of Naval Research (ONR) continuing this trend recently awarded Raytheon (RTN) a contract to work on hybrid solar/diesel generators to support deployed U.S. Marine Corps troops.
The goal of the two year demonstration contract is to work on prototypes with the potential of a further contract to build a working full scale system.
While some have criticized the Pentagon for the amount it is spending on green fuels and renewable energy for uses such as this it makes sense as it will lessen the logistic burden as well as reducing threats through lower signatures.
Photo from USAG-Humphrey's Flickr Photostream.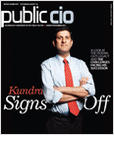 Government Technology's Public CIO delivers thought-provoking editorial insight on the unique management, technology and leadership challenges facing C-level executives across the entire public sector enterprise. Government Technology's Public CIO's exquisite design and award-winning editorial are unmatched in the industry.
The publication may be ordered here.